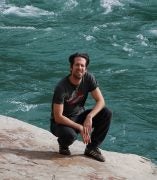 Phillip Cabeen
PhD Student
Teaching Assistant
Germanic Studies
Contact
Address:
601 S. Morgan St.
Email:
About
Phill Cabeen is a Ph.D. candidate in the Germanic Studies Department at the University of Illinois at Chicago, where his studies focus on subversive cultural arts movements of the 20th century, media studies, critical pedagogy, and the intersection of these.  He has been awarded a DAAD research fellowship for the 2022-23 academic year. This research is being pursued at the Christian Albrecht Universität zu Kiel and relevant archives toward his dissertation, "Affective Disorientation: The Neue Deutsche Welle and Ambivalence as Reparative Gesture." The project is informed particularly by twenty-first century scholarship on affect, and the ways in which affect determines the relationship(s) between art and politics. It also draws on Germanic Studies' rich humanist and anti-fascist traditions.
Phill earned his Master's of Arts in Teaching from Columbia College, where he also worked as an adjunct instructor for five years, teaching a series of courses on German Language and Culture which were informed by his student-centered philosophy. Prior to that, Phillip had lived abroad for six years, teaching English and visiting artists' studios in Beijing and the Ruhrgebiet, Germany. His Bachelor's, earned at UIC, is in Art History with a particular focus on post-colonialism and the politics of display.
Notable Honors
2022-2023, Research Grant, German Academic Exchange Service (DAAD)
2021, Robert Kauf Memorial Research Excellence Award, UIC
2021, Kauf Teaching Portfolio Award, UIC
2020-2021, Jacobson Bridges Fund, UIC
Fall 2018-2019, Max Kade Fellowship Award, UIC
Education
DAAD Research Stipendium, Christian-Albrechts Universität, Kiel, Germany, October 2022 - present.
PhD, Germanic Studies, University of Illinois Chicago, Chicago, USA,
September 2018 - present. Defense projected for May, 2024.
Master of Arts in Teaching, Visual Arts Specialist, Columbia College Chicago, Chicago, USA, 2009
Bachelor of Arts in Art History, Asian Studies Minor, University of Illinois at Chicago, Chicago, USA, 1999
Selected Presentations
"Defying Pop Expectations: Distraction and the Neue Deutsche Welle," presented at "Dust Distraction / Zerstreuung Staub," Johns Hopkins University, February 12, 2021
"Can We Call These 'Ossi-lations'? Ossi Oswalda and Ernst Lubitsch's Ich möchte kein Mann sein! (1918) and gender representation by silent-era women comics," presented at "In/Between," University of Illinois at Chicago, February 20, 2020
"Sommers Weltliteratur oh no: the Dispositive, Power and Resilience," presented at "Weimar Beyond the Screen," University of Illinois at Chicago, November 8, 2019