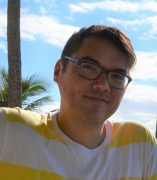 Zach Ramon Fitzpatrick, MA
PhD Candidate
Teaching Assistant
Germanic Studies
Pronouns: He/Him/His
About
Zach Fitzpatrick is a Ph.D. student. His connection to Germany began at the age of five, when his family was stationed in the Rhineland for three years. After his undergraduate years in German and international studies, he spent a year in Koblenz teaching English as a representative of the Fulbright Commission. In fall 2014, he finally came to Chicago to begin graduate study at UIC, writing his Master's thesis on Turkish German comedy film.
As a Filipino American, he has always been interested in researching diasporas outside of the U.S. context. His dissertation project will focus on uncovering representations of Asians throughout German film and television history. Other research interests include gender and women's studies, as well as film pedagogy.
In his free time, Zach runs a blog combining his music and film interests.