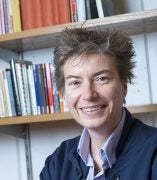 Imke Meyer, PhD
Professor and Director of Undergraduate Studies
Germanic Studies
Contact
Address:
601 S. Morgan St.
Office Phone:
Email:
About
Major Interests: narrative; critical theory; gender studies; late 19th and 20th century German and Austrian literature and culture; German and Austrian Film
Selected Publications
Books:
Männlichkeit und Melodram: Arthur Schnitzlers erzählende Schriften. Würzburg: Königshausen & Neumann, 2010.
Jenseits der Spiegel kein Land: Ich-Fiktionen in Texten von Franz Kafka und Ingeborg Bachmann. Würzburg: Königshausen & Neumann, 2001.
Selected Articles and Essays:
"Kafka's Hunger Artist as Allegory of Bourgeois Subject Construction," in: Wilke, Sabine, ed., From Kafka to Sebald: Modernism and Narrative Form. New York: Continuum, 2012. 27-45.
"Exploding Cinema, Exploding Hollywood: Quentin Tarantino's Inglourious Basterds and the Limits of Cinema," in: Dassanowsky, Robert von, ed., Quentin Tarantino's "Inglourious Basterds": A Manipulation of Metacinema. New York: Continuum, 2012. 15-35.
"Globalization, Consumer Culture, and Mediated Affect in Barbara Albert's Böse Zellen," in:  Dassanowsky, Robert von and Oliver Speck, eds., New Austrian Film. Oxford and New York: Berghahn, 2011. 94-107.
"Empire's Remains: The Ghosts of History in Michael Haneke's Le Temps du Loup." Modern Austrian Literature 43.2 (2010): 41-62.
"The Insider as Outsider: Representations of the Bourgeoisie in Fin-de-Siècle Vienna." Pacific Coast Philology 44 (2009): 1-16.
"Editor's Foreword" and ed. and preface, "The Academe in the Global and Digital Age: The Place of Literature Today."  Pacific Coast Philology 43 (2008): i-ii & 20-35.
"Gender, Cultural Memory, and the Representation of Queerness in Ingeborg Bachmann's Narrative 'A Step Towards Gomorrah'." Studies in Twentieth- and Twentyfirst-Century Literature 31.1 (2007): 133-59.
"Kulturkritik und Postmoderne: Elfriede Jelineks früher Text Michael." Gegenwartsliteratur 5 (2006): 1-24.
"'Thou Shalt Not Make Unto Thee Any Graven Image:' Crises of Masculinity in Schnitzler's Die Fremde," in: Lorenz, Dagmar C.G., ed., A Companion to the Works of Arthur Schnitzler. Rochester: Camden House, 2003. 277-300.
"Ludwig Tiecks Novelle Des Lebens Überfluß: Zur Dekomposition eines narrativen Zeit-Raumes." Seminar 37.3 (2001): 189-208.

Editorial Work:

Series Editor, New Directions in German Studies. Bloomsbury Publishing, Academic Division.
Editorial Board Member, Journal of Austrian Studies.
Notable Honors
2011-2013, Helen Herrmann Chair, Bryn Mawr College
Spring 2007, Visiting Associate Professor of German, University of Pennsylvania
2002, Christian R. and Mary F. Lindback Foundation Award for Distinguished Teaching, Bryn Mawr College
2002, DAAD Research Grant, Max Kade Center for Contemporary German Literature, Washington University, St. Louis
Education
PhD, University of Washington