German for Business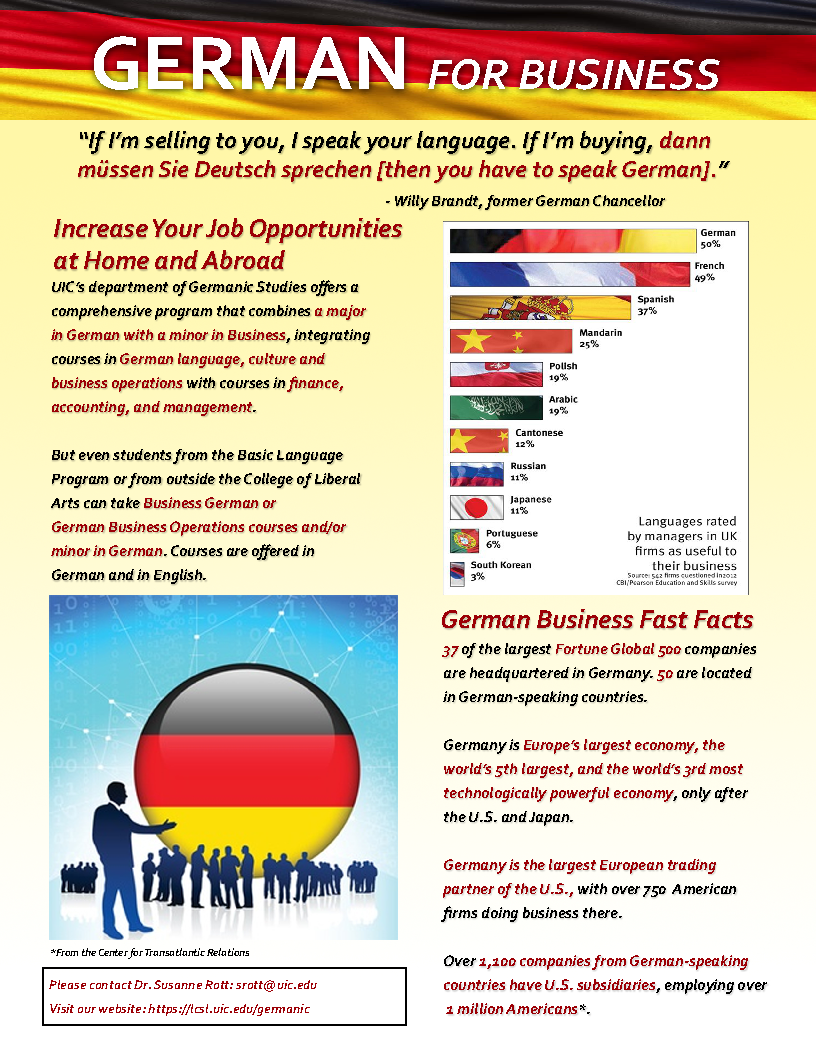 Why learn German?
Knowledge of German increases your job opportunities at home and abroad. Proficiency in German and all the communication skills you develop by learning German can help you function productively in the global business environment. Knowing the language of your worldwide business partners improves your relationships and thereby increases your chances for effective communication, success, and profit.
Germany's economic strength equals business opportunities. Multinational business ventures thrive throughout the European Union and in the Eastern European countries, where German is the second-most spoken language after Russian. And Germany is one of the top trade and investment partners of the United States.
The former German chancellor, Willy Brandt, once said, "If I'm selling to you, I speak your language. If I'm buying, dann müssen Sie Deutsch sprechen [then you have to speak German]."
This matters because of the power of the German economy. For example, here is a list of countries by the value of their exports, based on The World Factbook of the CIA, 2011/2012. (Compare the population sizes to get a sense of the scale!)
European Union $2,170,000,000,000*
People's Republic of China $2,050,000,000,000 (pop. 1.3 billion)
United States $1,612,000,000,000 (pop. 310 million)
Germany $1,492,000,000,000 (pop. 82 million)
* The EU language with the largest number of native speakers is German.
When conducting business, you want to be able to tell your side of the story in German and listen in when your partners are speaking their native tongue. And having a background in German language and cultural studies is always an impressive way to signal your motivation and your communication skills to prospective employers.
Here are the numbers
German investment in the United States exceeds $210 billion.
U.S. investment in Germany in 2008 was 111 billion Euros.
Germany is the largest European trading partner of the U.S., with more than 750 American firms doing business there.
Germany is the third largest trading partner of the U.S. in the world.
The United States imports more from Germany than from any other European country and is the second largest market for German exports ($78 billion).
More than 1,100 companies from German-speaking countries have subsidiaries in the U.S., employing some 1 million Americans directly (plus 8.6 million indirectly), according to recent figures from the Center for Transatlantic Relations.
The best-known German firms with subsidiaries in the U.S. include: Adidas, Aldi, Audi, Bayer, Braun, BMW, Daimler Chrysler, DHL, Hugo Boss, Lufthansa, Mercedes-Benz, Puma, T-Mobile, Porsche, Siemens, Volkswagen, Continental Tire, and Deutsche Bank.
More than 3,000 German companies have investments in the American market.
The volume of German mergers and acquisitions in the United States in 2007 was over 24 billion dollars (fourth after Canada, Britain and Australia—all English-speaking).
Profits for Germany's 30 leading blue-chip companies climbed by about 12 percent last year to hit a new record.
Germany is the world's second largest exporter, just behind China. Technological innovation and the high quality of German goods are the main reasons.
More than 45,000 international companies do business in Germany.
Germany is the most attractive place in Europe and third after the U.S. and China in the world for U.S. companies to invest, according to a survey conducted by the Boston Consulting Group. Reasons cited were the quality and reliability of the "Made in Germany" label as well as the country's resilience.
About half of the 547 billion Euros of banknotes in the Euro region are spent in Germany, according to the Bundesbank.
Together with China, Germany hosts more trade shows than any other country in the world. 2/3 of the world's leading trade fairs take place in Germany in cities such as Hanover, Frankfurt, and Berlin–including CeBIT, the world's largest trade fair for information and communication technology.
Germany tops the list of European nations in the number of new patents registered last year, according to figures from the European Patent Office in Munich. German inventors registered over 33,000 new patents in 2011—fewer than only US inventors with 59,000 and Japanese inventors with 47,000 (compare the populations!). Germany frequently has more patent approvals per year than the next four European countries combined.
The World Economic Forum recently named the most competitive nations in the world: Switzerland is number 1, Germany number 7, and Austria number 17.
The "Global Innovation Index" 2008 placed Germany in 2nd place (USA in 1st), Switzerland in 7th, and Austria in 15th. In last year's survey, Germany was also in 2nd place.
Germany was recently named Europe's most favorable manufacturing location for the foreseeable future by the firm Healy & Baker and in a recent issue of Newsweek as the second most powerful country in the world after the United States, based on many criteria, especially its economy.
Germany is Europe's largest economy, world's fifth largest, and the world's third most technologically powerful economy after the U.S. and Japan.
Germany is renowned for its state-of-the-art transportation and telecommunications infrastructure, high-tech research and development labs, well-trained work force, and large domestic market. Eighty percent of German adults have a professional qualification.
The World Economic Forum's 2011-2012 report notes that Germany is ranked an excellent 2nd for the quality of its infrastructure, boasting in particular first-rate facilities across all modes of transportation. Germany's business sector is highly sophisticated, especially when it comes to production processes and distribution channels.
200,000 businesses introduce new products on the German market each year.
Germany companies own some of your favorite consumer outlets including Trader Joes, Aldi, and Caribou and Peet's Coffee.
The German company, Bertelsmann, owns the RTL Group (Europe's number 1 broadcaster) and Random House (the world's largest book publishing group), and Gruner + Jahr (Europe's largest magazine publisher.)
Germany is one of the top three nations in research and development of high-tech products, the second among world leaders in both wind and solar power production and the world leader in solar photovoltaic panels.
Of the world's 500 largest stock-market-listed companies measured by revenue (the Fortune Global 500), 50 are in German-speaking countries. 37 of the Fortune Global 500 are headquartered in Germany. In 2010 the ten largest were Volkswagen, Allianz, E.O.N., Daimler, Siemens, Metro, Deutsche Telekom, Munich Re, BASF, and BMW.
The eastern German city of Dresden has become Europe's microchip center with its more than 765 semiconductor firms.
There are over 8 million internet domains with .de, which is only second to .com. German domain names are more popular than .net, .org, and .info.
More than 600 German films are active in the cutting-edge field of biotechnology. 115 of these are located in Munich alone.
Did you know?
UIC's department of Germanic Studies offers a comprehensive program that combines a major in German with a minor in Business, integrating courses in German language, culture and business operations with courses in Finance, Accounting, and Management. See German with Business Minor for more details.
But even students from the Basic Language Program or from outside the College of Liberal Arts and Sciences can take Business German or German Business Operations courses and/or minor in German in combination with their major. Courses are offered in German and in English. See German Courses for more details.
Here is a short list of just some of the study, research, and internship opportunities for students in business-related fields:
DAAD (German Academic Exchange Service)
The German Academic Exchange Service gives away more money for study/internships abroad than any other agency worldwide.
University Summer Course Grant:
Summer courses at German universities to help build your language skills while studying anything from film to politics to engineering.
Study and Internship Program (SIP):
A full academic semester of study abroad at one of the UAS7 universities in Germany, followed by a one-semester professional internship experience in a company or research institute in Germany.
Congress-Bundestag Youth Exchange for Young Professionals
The Congress-Bundestag Youth Exchange for Young Professionals (CBYX) is a fellowship funded by the German Bundestag and U.S. Congress, that annually provides American and German Young Professionals the opportunity to spend one year in each others' countries, studying, interning, and living with hosts on a cultural immersion program. The program is open to candidates in all career fields who are interested in a year of cultural exchange.
German American Chamber of Commerce of the Midwest
Transatlantic Program – Young Technology Leaders:
Short study-trips to Germany, bringing together future technology leaders from the US and Germany. Each year's program focuses on a special topic, such as: Sustainable Manufacturing, Sustainable Architecture and Urban Planning, Logistics and Transportation, Water Management, Intelligent Transportation Communication Systems, Healthcare Delivery & Medical Technology.
Think Swiss Research Scholarships and Summer School Grants
ThinkSwiss supports highly motivated and qualified U.S. undergraduate and graduate students to do research in Switzerland for 2 to 3 months or to participate in summer schools at top Swiss universities.
Cultural Vistas
Eight-week summer program in Germany for US university students.
Strong preference given to students historically underrepresented in international exchange. This includes, but is not limited to Pell Grant recipients; veterans; first-generation college students; members of minority communities within the United States; and non-traditional students.