German for Science and Engineering
Science, Technology, Engineering and Math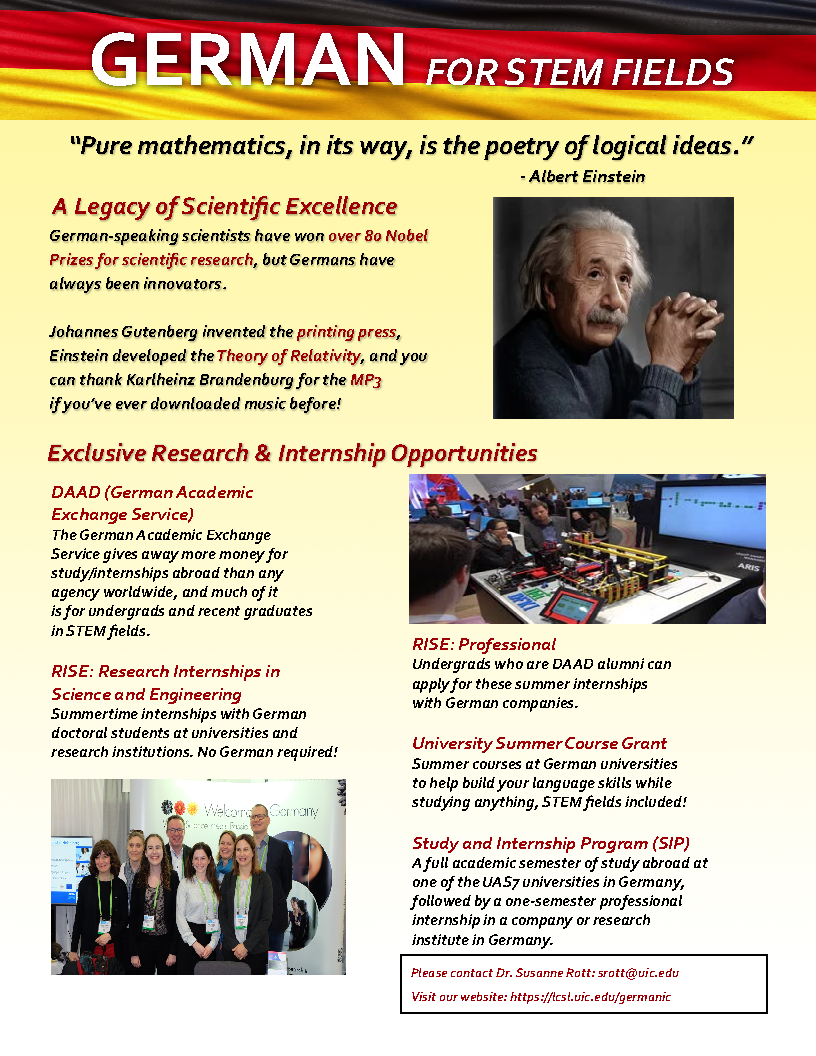 Why learn German?
Germans have always been innovators. Johannes Gutenberg invented the printing press, Heinrich Hertz proved the existence of electromagnetic waves, Einstein developed the Theory of Relativity, and Karlheinz Brandenburg came up with "the hottest thing in cyberspace", the MP3 digital music format.
10 of the 22 greatest scientific breakthroughs of the 20th century were made by Germans or Austrians (Lightman, The Discoveries, 2005).
German-speaking scientists have won 37 Nobel Prizes in Physics, 38 in Chemistry, and 30 in Medicine.
Germany exports more high-tech products than any other country except the U.S.
Germany is a leader in sustainability and the development of alternative energy.
The German Exchange Service offers numerous scholarships for study and internship, especially for STEM students
Study, research, internship opportunities for STEM students
DAAD (German Academic Exchange Service)
The German Academic Exchange Service gives away more money for study/internships abroad than any other agency worldwide, and much of it is for undergraduates and recent graduates in the STEM disciplines.
RISE-Research Internships in Science and Engineering:
Summertime internships with German doctoral students at universities and research institutions—no German required!
RISE professional:
Undergrads who are DAAD alumni can apply for these summer internships with German companies.
University Summer Course Grant:
Summer courses at German universities to help build your language skills while studying anything from film to politics to engineering.
Study and Internship Program (SIP):
A full academic semester of study abroad at one of the UAS7 universities in Germany, followed by a one-semester professional internship experience in a company or research institute in Germany.
Congress-Bundestag Youth Exchange for Young Professionals
The Congress-Bundestag Youth Exchange for Young Professionals (CBYX) is a fellowship funded by the German Bundestag and U.S. Congress, that annually provides American and German Young Professionals the opportunity to spend one year in each others' countries, studying, interning, and living with hosts on a cultural immersion program. The program is open to candidates in all career fields who are interested in a year of cultural exchange.
German American Chamber of Commerce of the Midwest
Transatlantic Program – Young Technology Leaders:
Short study-trips to Germany, bringing together future technology leaders from the US and Germany. Each year's program focuses on a special topic, such as: Sustainable Manufacturing, Sustainable Architecture and Urban Planning, Logistics and Transportation, Water Management, Intelligent Transportation Communication Systems, Healthcare Delivery & Medical Technology.
Think Swiss Research Scholarships and Summer School Grants
ThinkSwiss supports highly motivated and qualified U.S. undergraduate and graduate students to do research in Switzerland for 2 to 3 months or to participate in summer schools at top Swiss universities.
Cultural Vistas
Eight-week summer program in Germany for US university students.
Strong preference given to students historically underrepresented in international exchange. This includes, but is not limited to Pell Grant recipients; veterans; first-generation college students; members of minority communities within the United States; and non-traditional students.