German for the Arts and Creative Fields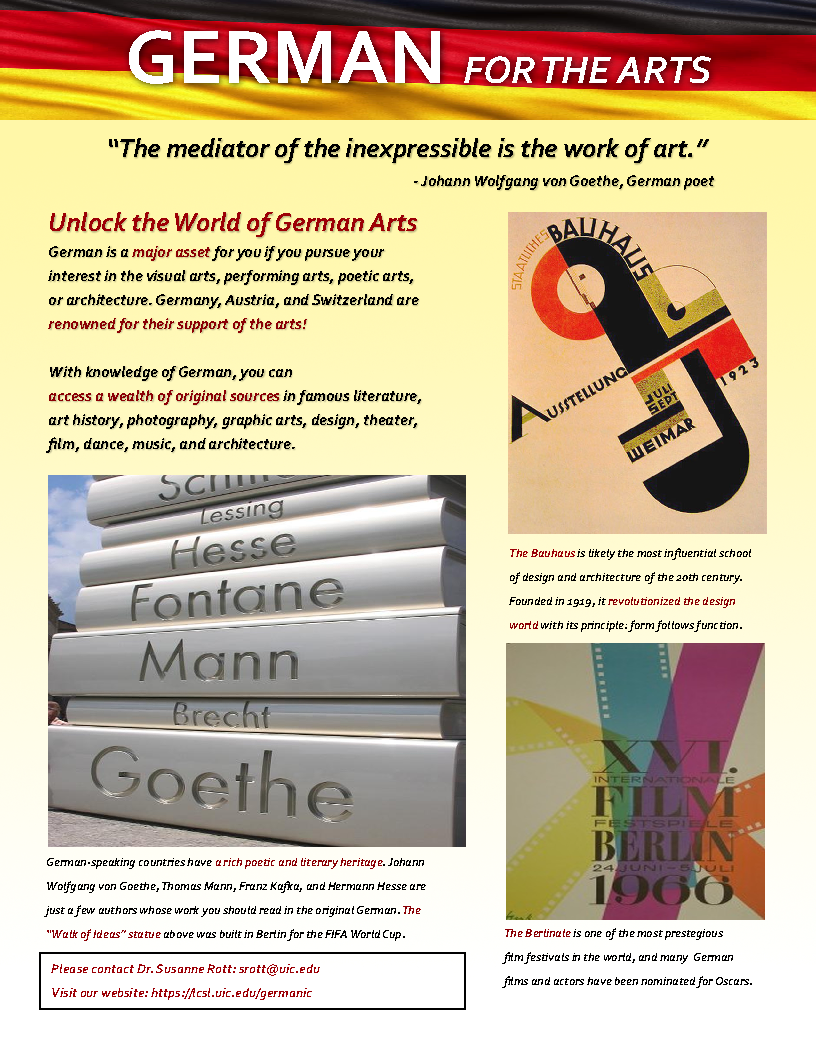 Why learn German?
German is essential for you if you choose a career or intend to otherwise pursue your interest in the visual arts, performing arts, poetic arts, or architecture. With the knowledge of German, you can access a world of sources for literature, art history, photography, graphic arts, design, theater, film, dance, music, or architecture. Germany and Austria and Switzerland are renowned for their support of the arts.
Did you know?
$2 billion US are spent on theaters, opera houses and orchestras in Germany each year, sustaining as many as 150 publicly funded theaters and 280 private houses.
Germany is home to more than 3,000 museums, each with a different area of focus. Berlin alone is home to 167 museums. More than 100 million people visit Germany's museums each year.
The German theaters and opera houses engage 250 ballet companies and nearly 1,600 dancers. World-famous John Neumeier, director of the Hamburg Ballet, the late Pina Bausch of Wuppertal, and Johann Kresnik and Sasha Waltz of Berlin are just a few names of renowned choreographers in Germany.
60 theater festivals—most famously the Bayreuther Festspiele (a festival for interpretations of the operas of Richard Wagner) or Theater Meeting in Berlin (with awards for the best plays of the year)—are held in Germany every year.
Roughly 300 international and German-language theatrical premieres are staged in Germany each year.
There are some 300 classical music festivals in Germany every year. Prime examples are the Bayreuter Festspiele, the tranditional Beethoven Festival in Bonn, and the Bach Festival in Leipzig.
Germany boasts 141 professional orchestras; the country's leading ensembles are the Berlin and Munich Philharmonic orchestras, the Gewandhaus Orchestra in Leipzig, the Dresden Staatskapelle—just to name a few. The Gewandhaus Orchestra was led by Kurt Masur for many years, before he left for the New York Philharmonic. The Berlin Philharmonic has been directed by such prominent conductors as Wilhelm Furtwängler, Herbert von Karajan, Claudio Abado and Sir Simon Rattle.
Classical music would not be the same if not for German-speaking composers such as Bach, Mozart, Beethoven, Strauss, and Wagner.
Vienna, Austria remains an international center of music today.
Numerous film festivals are particularly important for the cultural image of cinema in Germany and its reputation abroad. The most important forum for film is the Berlin International Film Festival (the "Berlinale"), established in 1951, which together with Cannes and Venice is one of the major film festivals in the world. The film festivals in Mannheim, Oberhausen, Leipzig, Hof, Munich, Lübeck and Hamburg premiere the work of many important filmmakers, including those teaching and working right here in Chicago and at UIC!
Directors from Fritz Lang to Ernst Lubitsch to Rainer Werner Fassbinder to Tom Tykwer all started their careers in Germany and define the international image of
German cinema. German and Austrian films and actors are repeatedly nominated for Oscars in the foreign film category and beyond.
From Dürer's woodcuts to the expressionist masterpieces of Nolde, Kirchner, and Kokoschka, Germans and Austrians have shaped the world of art.
The Bauhaus is probably the most influential school of design and architecture of the 20th century—founded in 1919, it revolutionized the world of architecture and design with its basic principle: form follow function. The names of Bauhaus teachers are world famous: Ludwig Mies van der Rohe, Walter Gropius, Le Corbusier, Bruno Taut and Erich Mendelsohn. More recent architects like Helmut Jahn are based in Berlin and Chicago. All have had a major influence on international modern architecture, including here in Chicago!
The German firm Bertelsmann is the world's largest publisher, and Germany publishes 35% more titles annually than the U.S.
The German company Taschen is the most popular publisher of art books.
Between 1-in-8 and 1-in-10 books of all the books published in the world each year are in German.
Over 80,000 new book titles appear in German each year.
German-speaking countries have a rich poetic and literary heritage. Johann Wolfgang von Goethe, Thomas Mann, Franz Kafka, and Hermann Hesse are just a few authors whose work you should read in the original if you can.
10 Nobel prizes for literature have been awarded to German, Austrian, and Swiss authors.
Study, research, and internship opportunities for students in art, performance, design and architecture
DAAD (German Academic Exchange Service)
The German Academic Exchange Service gives away more money for study/internships abroad than any other agency worldwide and they are especially supportive of students in creative fields.
University Summer Course Grant:
Summer courses at German universities to help build your language skills while studying anything from film to politics to engineering.
Study and Internship Program (SIP):
A full academic semester of study abroad at one of the UAS7 universities in Germany, followed by a one-semester professional internship experience in a company or research institute in Germany.
Congress-Bundestag Youth Exchange for Young Professionals
The Congress-Bundestag Youth Exchange for Young Professionals (CBYX) is a fellowship funded by the German Bundestag and U.S. Congress, that annually provides American and German Young Professionals the opportunity to spend one year in each others' countries, studying, interning, and living with hosts on a cultural immersion program. The program is open to candidates in all career fields who are interested in a year of cultural exchange.
German American Chamber of Commerce of the Midwest
Transatlantic Program – Young Technology Leaders:
Short study-trips to Germany, bringing together future technology leaders from the US and Germany. Each year's program focuses on a special topic, including Sustainable Architecture and Urban Planning.
Think Swiss Research Scholarships and Summer School Grants
ThinkSwiss supports highly motivated and qualified U.S. undergraduate and graduate students to do research in Switzerland for 2 to 3 months or to participate in summer schools at top Swiss universities.
Cultural Vistas
Eight-week summer program in Germany for US university students.
Strong preference given to students historically underrepresented in international exchange. This includes, but is not limited to Pell Grant recipients; veterans; first-generation college students; members of minority communities within the United States; and non-traditional students.
UIC's Department of Germanic Studies offers courses in German and English for all levels of language ability and interest. Students from all colleges can participate in our Basic Language Program or minor or double-major in German.