We are a diverse and inclusive community of students, teachers, and scholars who explore German Studies from an interdisciplinary perspective. Our faculty members are leading scholars in their fields. We provide individualized attention, small seminar settings, and undergraduate and graduate research opportunities to our students. A majority of our majors receive scholarships, including support to study abroad. Our alumni have gone on to successful careers in many fields, including law, architecture, health professions, banking, technology, library sciences, logistics, sales and marketing, translation, non-profit management, event planning, social services, and K-12 and higher education.
We offer free tutoring to all students in our basic language program, and our majors can become paid peer tutors at UIC.
Located in the heart of Chicago, we foster collaborations with international and local cultural institutions and German programs in the greater Chicago area and beyond.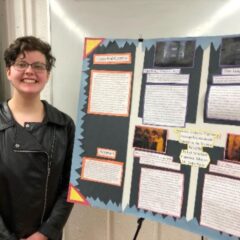 "Germanic Studies at UIC gave me wonderful paid leadership opportunities: peer tutoring as an undergrad and teaching my own courses as a graduate student. My education was further supported through internship opportunities—an internship helped me realize a career goal to become an academic advisor. Now I give back to the UIC community as an academic advisor myself. The experience you will have in Germanic Studies will create a myriad of avenues for you to walk down–and you will find no better people to walk down those avenues with than the faculty, students, and peers in the program."

-Lily Schreiner, BA Germanic Studies, MA Germanic Studies, 2022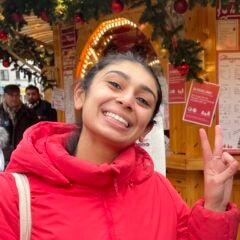 "Studying German was a choice I made that changed the trajectory of my future completely. I was supported by members of the department while looking for volunteer opportunities in Berlin and was successful in my fellowship applications thanks to their help. By taking advantage of the numerous opportunities the department also offers students, I not only expanded my linguistic abilities, but also discovered my passion for refugee policy and politics."

-Zuka'a Joudeh, BA in Germanic Studies and Political Science, 2019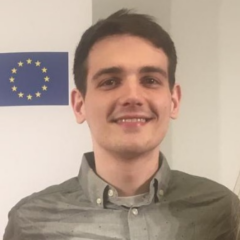 "I completed my BA in Germanic Studies in 2020 and the MA in 2022. My six years in the program have had an immensely positive impact on my career path as well as me as an individual. I received a Bridges scholarship to intern at the US Embassy in Romania and then study abroad at the Vienna University of Economics and Business. In Germanic Studies courses, I learned how to conduct research and developed critical writing skills that helped me get my current job at Amazon. In my position, I provide German translations and conduct research on German databases. Choosing UIC's Germanic Studies program will greatly broaden your horizons and leave you well-prepared for further study and a career."

Andrew Tuider, BA Germanic Studies and Political Science, MA Germanic Studies, 2022
Friday, 3:00 pm–5:00 pm
The Newberry Library, Rettinger Hall
Friday, 3:00 pm–5:00 pm
The Newberry Library, Rettinger Hall