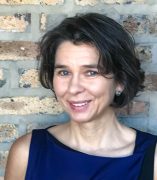 Susanne Rott, PhD
Associate Professor (on leave Spring 2022)
Associate Professor of Linguistics
Germanic Studies
Contact
Address:
601 S. Morgan St.
Office Phone:
Email:
About
My principal area of research is the development of lexical semantics in second language learners. I am particularly interested in (a) the acquisition of individual words, formulaic sequences, and  lexical-grammatical constructions, (b) the impact of instructional interventions that foster the noticing and incremental acquisition and  (c) the usage of conventionalized language by intermediate and advanced learners. My research goals include (a) determining the complexity of lexico-grammatical constructions of German by applying tools from Cognitive Linguistic theory and  (b) developing a language pedagogy  that accounts for metaphorical aspects of language and meaning extensions, principles of construal, and the frequency of usage events. In my research I integrate linguistic, cognitive, and socio-motivational approaches to the study of classroom-based language learning.
My second area of interest concerns the effective integration of  SLA theory and research and social networking technology to develop blended learning units.
Selected Publications
Articles
Rott, S., & Weber, E.D. (2013). Preparing students to use wiki software as a collaborative learning tool. CALICO Journal, 30(2), 179-203.
Rott, S. (2012). Complementary Functions of Face-to-Face and Online Oral Achievement Tests in a Hybrid Learning Program. In F. Rubio and J.T. Thomas (Eds.), Hybrid Language Teaching and Learning: Exploring Theoretical, Pedagogical and Curricular Issues (pp.137-159). Boston: Cengage Learning.
Rott, S. (2012). The Classification of Lexical Intervention Tasks: An Approximate Replication of Laufer and Hulstijn (2001). In G. Porte (Ed.), Replication Research in Applied Linguistics and Second Language Acquisition: A Practical Guide (pp. 228-267). Cambridge: Cambridge University Press.
Barcroft, J. & Rott, S. (2010). Partial word form learning in the written mode in L2 German and Spanish . Applied Linguistics.
Rott, S. (2007). The effect of frequency of input-enhancements on word learning and text comprehension.  Language Learning, 57(2), 165-19.
VanPatten, B., Williams, J., & Rott, S. (2004). Form-meaning connections in second language acquisition. In B. VanPatten, J. Williams, S. Rott, & M. Overstreet (Eds.), Form-Meaning Connections in Second Language Acquisition (pp. 1-26).Mahwah: Erlbaum Press.
Rott, S., Williams, J., & Cameron, R. (2002). The effect of multiple-choice glosses and input-output cycles on lexical acquisition and retention. Language Teaching Research, 6, 183-222.
Rott, S. (1999). The effect of exposure frequency on intermediate language learners' incidental vocabulary acquisition and retention through reading.  Studies in Second Language Acquisition 2, 589-620.
Notable Honors
2008, Study Visit Grant at the Humboldt University, Germany, DAAD (Deutscher Akademischer Auschtauschdienst)
2004, Study Visit Grant at the Potsdam University, Germany, DAAD (Deutscher Akademischer Auschtauschdienst)
2003, Teaching Recognition Program Award for excellence in teaching, quality in syllabi and course design, and the support of student research, UIC Council of Excellence in Teaching and Learning
Education
PhD, University of Illinois at Urbana-Champaign