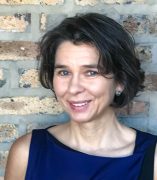 Susanne Rott, PhD
Associate Professor of Germanic Studies and Linguistics
Head and Language Program Director
Germanic Studies
Contact
Address:
601 S. Morgan St.
Office Phone:
Email:
About
My research focuses on incidental and deliberate learning of single words and multi-word units in a classroom and online environment. I am particularly interested in input variables and cognitive factors that affect word processing for use and long-term retention.
Selected Publications
Select Articles
Abrams, Z., & Rott, S. (2017). Variability and variation of L2 grammar: A cross-sectional analysis of German learners' performance on two tasks. Language Teaching Research, 21(2), 144-165.
Rott, S., & Gavin, B. (2015) Comprehending and learning from Internet sources: A conceptual replication study of Goldman, Braasch, Wiley, Greasser and Brodowinska (2012). CALICO Journal, 32(2), 323-354.
Rott, S., & Weber, E.D. (2013). Preparing students to use wiki software as a collaborative learning tool. CALICO Journal, 30(2), 179-203.
Rott, S. (2012). Complementary Functions of Face-to-Face and Online Oral Achievement Tests in a Hybrid Learning Program. In F. Rubio and J.T. Thomas (Eds.), Hybrid Language Teaching and Learning: Exploring Theoretical, Pedagogical and Curricular Issues (pp.137-159). Boston: Cengage Learning.
Barcroft, J., & Rott, S. (2010). Partial word form learning in the written mode in L2 German and Spanish. Applied Linguistics, 3, 623-650.
Rott, S. (2007). The effect of frequency of input-enhancements on word learning and text comprehension. Language Learning, 57(2), 165-19.
Edited Volumes
Ecke, P., & Rott S. (Eds.) (2018). Understanding Vocabulary Learning and Teaching: Implications for Language Program Development. AAUSC series. Boston: Cengage.
VanPatten, B., Williams, J., Rott, S., & Overstreet, M. (Eds.) (2004). Form-Meaning Connections in Second Language Acquisition. Mahwah: Erlbaum Press.
Professional Leadership
Board member, DAAD Alumni Association USA
Editorial Board, Second Language Research and Practice
Notable Honors
2008, Study Visit Grant at the Humboldt University, Germany, DAAD (Deutscher Akademischer Auschtauschdienst)
2004, Study Visit Grant at the Potsdam University, Germany, DAAD (Deutscher Akademischer Auschtauschdienst)
2003, Teaching Recognition Program Award for excellence in teaching, quality in syllabi and course design, and the support of student research, UIC Council of Excellence in Teaching and Learning
Education
PhD, University of Illinois at Urbana-Champaign