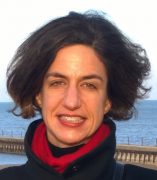 Heidi Schlipphacke, PhD
Associate Professor and Director of Graduate Studies
Germanic Studies
Contact
Address:
601 S. Morgan St.
Office Phone:
Email:
About
Major Interests: 18th century literature and thought; gender and kinship; post-fascist German and Austrian literature; European cinema; queer theory; critical theory; psychoanalysis; time
Selected Publications
Books:

Special Journal / Yearbook Issues:
Co-Editor, Lessing Yearbook 44: "Lessing, The European Enlightenment, and the First Sexual Revolution" (with Carl Niekerk). Göttingen: Wallstein, 2017.
"Habsburg Nostalgia." Journal of Austrian Studies 47.1 (March 2014).

Articles and Book Chapters:
"Adorno and the Ethics of Camp," Understanding Adorno, Understanding Modernism. Ed. Robin Truth Goodman. New York: Bloomsbury, Forthcoming.
"Kinship and Aesthetic Depth: The Tableau vivant in Goethe's Wahlverwandtschaften." Publications of the English Goethe Society 87.3 (2018). Forthcoming.
"Introduction: 'Sissi': The Convergence of Memory and Myth" (with Maura Hametz). Sissi's World: The Empress Elisabeth in Memory and Myth. New York: Bloomsbury, 2018.
"Jackie's Queer Body: Elfriede Jelinek's Tod und das Mädchen IV and American First Lady Drag." JELINEK(JAHR)BUCH. Elfriede Jelinek-Forschungszentrum 2016-2017 (Summer 2017): 116-41.
"The Future of Melancholia: Freud, Fassbinder and Anxiety After War: 2015 Presidential Lecture." Pacific Coast Philology 52.1 (2017): 6-22.
"Austrian Studies in a New Époque" (with Imke Meyer). The German Quarterly 89.2 (Spring 2016): 227-29.
"The Place and Time of the Uncanny." Pacific Coast Philology 50.2 (2015): 163-72.
"The Temporalities of Habsburg Nostalgia." Journal of Austrian Studies 47.2 (July 2014): 1-17.
"The Trouble With Shane: Lesbians and Polygamy." Dana Heller (ed). Loving the L Word. London and New York: I.B. Tauris, 2013: 81-99.
"Heterotopic Bodies: Intimacy and the Global in Tom Tykwer's The International."  Richard T. Gray and Hamid Tafazoli (eds). Außenraum–Mitraum–Innenraum: Heterotopien in Kultur und Gesellschaft. Bielefeld: Transcript, 2012: 151-68.
"Tarantino's Inglourious Basterds and the Gender of Revenge." Robert Dassanovsky (ed). Quentin Tarantino's Inglourious Basterds: A Manipulation of Metacinema. London and New York: Continuum, 2012: 113-33.
""Das kleine Ich": Robert Menasse and Masculinity in Real Time." Sabine Wilke (ed). From Kafka to Sebald: Modernism and Narrative Form. London and New York: Continuum, 2012: 97-123.
"Melancholy Empress: Queering Empire in Ernst Marischka's Sissi Films." Screen 51.3 (Autumn 2010): 232-55.
 —. Reprinted in Sissi's World: The Empress Elisabeth in Memory and Myth.
"Fragmented Bodies: Masculinity in Contemporary German Cinema." Santiago Fouz-Hernández (ed).  Mysterious Skin: The Male Body in Contemporary Cinema. London and New York: I B Tauris, 2009: 27-43.
"Postmodernism and the Place of Nostalgia in Ingeborg Bachmann's Franza Fragment." The German Quarterly 79.1 (2006): 71-89.
"Melodrama's Other: Entrapment and Escape in the Films of Tom Tykwer." Camera Obscura62 (2006): 108-43.
"Translating Jelinek: Globalizing the Austrian Province." Modern Austrian Literature 38.1/2 (2005): 73-82.
"'Vous appellés cela betrügen?': Slippery French Morals and German Bourgeois Virtues in Selected Writings by G.E. Lessing." Rhine Crossings: Love and War in France and Germany. Aminia Brüggemann and Peter Schulman (eds). Albany, NY: SUNY Press, 2005: 35-67.
"'Die Vaterschaft beruht nur überhaupt auf der Überzeugung': The Displaced Family in Wilhelm Meisters Lehrjahre." Journal for English and German Philology 102.3 (2003): 390-412.
"Enlightenment, Reading, and the Female Body: Bernhard Schlink's Der Vorleser." Gegenwartsliteratur I (2002): 310-28.
"The Dialectics of Female Desire in G.E. Lessing's Emilia Galotti."  The Lessing Yearbook 33 (2001): 55-78.
"A Hidden Agenda: Gender in Selected Writings by Theodor Adorno and Max Horkheimer." Orbis Litterarum 56.4 (2001): 294-314.
—Reprinted in Theodor Adorno. 4 vols. Ed. Gerard Delanty. London: Sage, 2004. 391-409.
"Eros and Community: C.F. Gellert's Das Leben der schwedischen Gräfin von G***." The Germanic Review 76.1 (2001): 70-89.
"Construction of a Gendered Subject: A Feminist Reading of Adorno's Aesthetic Theory." The Semblance of Subjectivity: Essays in Adorno's Aesthetic Theory. Tom Huhn and Lambert Zuidervaart (eds). Cambridge, MA: MIT Press, 1997. 287-308 (with Sabine Wilke).

Creative Editorial Work and Short Essays:
Co-Editor, "A Home at the End of the World: A Festschrift for Frederick Lubich." with Susan Wansink. TRANS-LIT2 18.2 (SPRING 2012): 91-154.
"Sissi and Die Schicksalsjahre einer Kaiserin (The Fateful Years of an Empress)."World Film Locations: Vienna. Robert von Dassanawsky (ed). New York: Intellect, 2012: 46-47.
Notable Honors
2017-2018, Institute for the Humanities Fellow, UIC
2008, Fulbright Senior Scholar Grant, United States Department of State Bureau of Educational and Cultural Affairs
1995-1996, German Academic Exchange Service (DAAD) Research Grant, German Academic Exchange Service (DAAD)
Education
PhD, University of Washington